Organic Green Pest Control in Morgan Hill
A special division of Killroy Pest Control which offers creative, green, natural pest control options
Alternative "Green" Natural Pest Control Services
Killroy Pest Control is the most trusted organic green pest control company in Morgan Hill. We use the latest technology and techniques to get rid of pests, including ants, bed bugs, and spiders.
Organic pest control is the process of controlling pests without the use of toxic chemicals. It's often referred to as "green" pest control, but that term isn't accurate because some organic pesticides are synthetic. The most common types include neem oil and pyrethrum, two natural pesticides made from plants.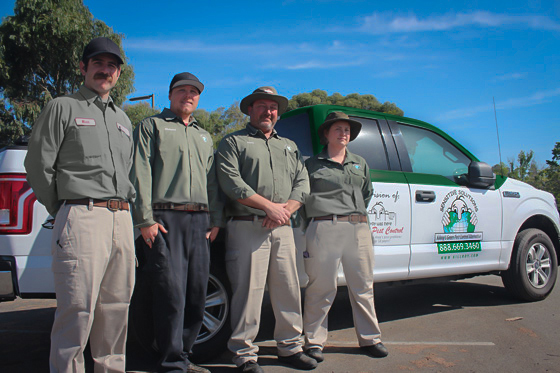 There are many benefits to choosing an organic pest control company over one that uses harsh chemicals for your green service needs. These include:
The Bay Area's Original Natural and Organic Pest Control Company
Killroy Pest Control offers pest control services in Morgan Hill. We are a family-owned company with over 60 years of experience in the pest control industry. We're committed to providing you with the best service and high quality workmanship at competitive rates.
Our experienced technicians will arrive on time, fully prepared with all necessary tools, equipment and protective clothing. They will assess conditions thoroughly before applying treatments appropriate for your situation. Call today to set up an appointment with Killroy Pest Control, and address your pest problem before it becomes a major issue. We offer a wide variety of solutions to help keep your home or business pest-free. Whether it's rodents, spiders, termites or ants that are the problem in your Morgan Hill area home or business, we can help!
Our trained technicians will come out and assess your situation and find the best way to eliminate the infestation without harming the environment or your pets. We have been providing our organic pest control services throughout California for years and have built up a reputation for quality service.
With over 60 years of experience, there isn't a pest that we haven't seen
As an established company with a long history and many satisfied customers, Killroy is the company you can trust to take care of your pest problems. Our experts will be able to identify the pests, determine how far their infestation has spread, and eliminate them from your home or business.
Our technicians will perform a thorough inspection of your home or business, including any crawl spaces and attics. They'll also look for possible entry points for pests, such as cracks in the walls or broken windows. If you have bed bugs, fleas, ants, rodents or cockroaches – no worries! We have a solution for each and every one of them.
How does organic green pest control work? It's actually pretty simple: We use safer ingredients than traditional bug sprays or bug bombs to drive away the pests! Remember that our organic green pest control won't hurt you or your family members either!
Killroy Green Pest Control solves your pest problems without harming the environment
Killroy Green Pest Control is a family-owned, fully licensed, and certified pest control company. We offer a wide selection of eco-safe solutions for customers in Morgan Hill.
Our experienced technicians can handle any type of pest problem with specialized equipment to ensure that no chemicals are left behind to harm your family or pets. We use only organic products approved by the California Department of Pesticide Regulation (CDPR) and do not contain any harmful chemicals.
Organic Green Pest Control with Killroy
Killroy is a certified organic pest control company, which means we use green pest control methods to get rid of pests without harming the environment or your health. We are proud of our green pest control services in Morgan Hill. If you have any questions about our services or would like to schedule an appointment with one of our experts, please give us a call.
Ask for a Sensitive Solutions™ specialist.
We are glad to answer any questions or schedule an appointment.
We provide commercial and residential pest control services in the South San Francisco Bay, Tri-Valley areas, and Santa Cruz County.