Organic Green Pest Control in Tracy
Killroy Pest Control is Tracy area's Original Natural Pest Control Company
A special division of Killroy Pest Control which offers creative, green, natural pest control options​
Pest control is a necessary service for the health of your home or business. However, traditional pest control services can be dangerous to the environment and your family. That's why we offer environmentally safe pest control services that are approved by the EPA to be safe around people and pets.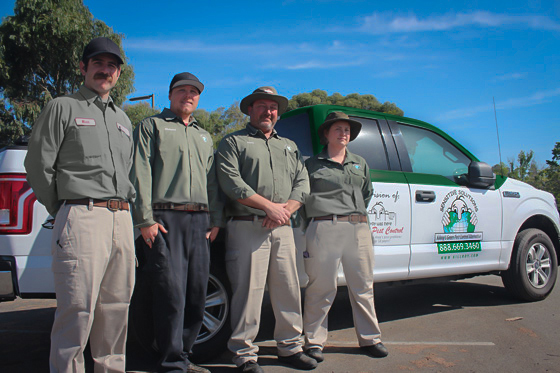 Nontoxic Natural Pest Control
Nontoxic natural pest control products are chemical-free and are often more effective than traditional methods. The chemical-free nature of these products makes them safe for humans, pets and wildlife. However, there are some important factors that you should consider if you want to use this type of treatment in your home or business.
As with all other types of pest control services we offer here at Killroy Pest Control, we have trained technicians on hand who can help guide you through each step along the way so that you receive optimal protection against pests invading your home or business!
Integrated Pest Management
Integrated Pest Management (IPM) is a holistic approach to pest control.
It uses a combination of methods to prevent pests from becoming a problem in the first place, and it is also used to keep pests from spreading to other areas.
IPM is not just about using pesticides; it employs methods such as habitat modification, exclusion, sanitation and host plant resistance. When properly implemented, these strategies can help you reduce or eliminate your use of pesticides altogether!
When it comes to Tracy pest control, there is no better option than the use of natural predators and parasites. Biological pest control is the use of these natural elements to eliminate pests in your home or commercial property.
They are the most effective way to control pests. Natural predators and parasites are always on the lookout for their own food sources, so once they find a source of food in your home or business, they will keep coming back as long as you have them there. In contrast, chemical pesticides only kill off one generation at a time before being rendered ineffective—and sometimes even causing collateral damage caused by their own toxicity (like killing beneficial insects).
The Green Alternative to Traditional Pest Control Services
Environmentally Safe Pest Control Services are approved by the EPA to be safe around people and pets.
As a consumer, you have the right to know that your environment is safe and secure from harmful pests. Fortunately, EPA approved pest control services are environmentally safe and do not pose a threat to your health or the safety of your family.
The Bay Area's Original Natural and Organic Pest Control Company
We are the experts when it comes to finding creative natural solutions for Bay Area properties. With over 27 years of experience, we are uniquely qualified to help you find the best organic and natural pest control techniques and solutions. For example, to control ground squirrels, we use a sand & water slurry with our Tunnel Topper™ process which also repairs the damage ground squirrels cause. We have used goats to solve weed problems. We have discouraged insects with botanical oils, and we have used beneficial insects and nematodes to control unwanted bugs. And we can find a natural solution for you. Give us a call!
We are proudly certified by EcoWise.
Ask for a Sensitive Solutions™ specialist.
We are glad to answer any questions or schedule an appointment.
We provide commercial and residential pest control services in the South San Francisco Bay, Tri-Valley areas, and Santa Cruz County.