Organic Green Pest Control in Livermore, CA
Killroy is the Bay Area's Original Natural Pest Control Company
Sensitive Solutions is a special division of Killroy Pest Control. Our Livermore pest control experts offer creative, green, and natural pest control options. We'll find natural and organic approaches to pest control for your family.
A Special Division Of Killroy Pest Control Offering Natural Pest Control Options​
Alternative "Green" Natural Pest Control Services
Do you want to live in a bug-free house? You may want to consider using green pest control. Synthetic pest control can be dangerous to human life and even harm the environment.
Today's green pest control is as safe as traditional methods. Using them can't harm the environment or your family.
For example, some of these products include diatomaceous earth, made out of the fossilized remains of tiny plants and animals. It works well to kill external and internal pests. The insects eat it and die because it tears up their digestive tracts. Diatomaceous earth harmless if your pets or children come in contact with it.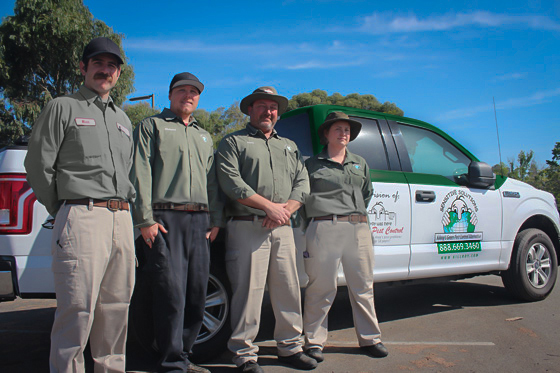 Another possible ingredient in organic pesticides is orange peel. Orange oil extracted from orange peels is a powerful insect repellent. An added bonus is that orange oil also smells incredible in your home.
Difference Between Green and Conventional Pest Control
Green Pest Control
Green Pest Control from Killroy Pest Control involves an integrated pest management approach. This approach uses the earth's resources as part of an effort to reduce negative impact on the environment.
Conventional Pest Control
Conventional pest control kills pests with toxic chemicals made from petroleum by-products. These pesticides have many toxic chemicals, including DDT and other dangerous heavy metals. When these toxins absorb into the soil and aquatic habitats, the resulting pollution can cause damage to wildlife. This can cause long lasting effects to water quality, and ecosystems. to what level these pesticides negatively impact plants, animals, and people is unknown.
Green pest control is the way to go. Local and international organizations recommend adopting green pest control measures to decrease global warming and the depletion of the ozone layer.
What are the different types of green pest control?
An organic pest control product is free of conventional chemical pesticides. Organic pest control products should not include petroleum. There should be no toxic fertilizers and uneffective to and by weather conditions.
The term organic means that the product comes from natural ingredients, not artificial chemicals. Organic pesticides are made from renewable resources like plants and animals. They're safe for humans, pets, and the environment because they won't harm living things or cause environmental damage.
Natural Pest Control
Natural pest control generally uses naturally available features to discourage pests.
A common application is the use of natural predators to reduce pest infestations. An example would be using ladybugs and other natural predators to deal with pests in your garden.
Eco-friendly Pest Control
Eco-friendly means that the method of control or extermination is environmentally friendly. The products used don't harm the environment or any living organism.
A green pest control method would fall under all three categories.
Ask for a Sensitive Solutions™ specialist.
We are glad to answer any questions or schedule an appointment.
We provide commercial and residential pest control services in the South San Francisco Bay, Tri-Valley areas, and Santa Cruz County.